Overview of application
Water is human survival treasure resources, management and use of water are increasing the load characteristics of the pump equipment based on the control of water supply by frequency conversion technology is becoming more and more mature, compared with the traditional water supply system, water quality conversion scheme is improved, the water pressure can be adjusted, the system covers an area of reduced at the same time, the drive power of pump covers a wide range, complete functions, simple debugging, easy installation, can realize automatic water supply, intelligent water supply, water supply system is the most ideal choice.
- application challenges
Maintain high quality water supply;
The operation is stable and reliable.
It can run automatically without maintenance.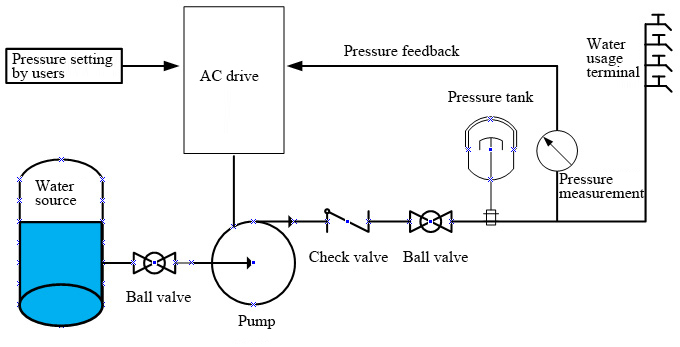 The system is mainly composed of inverter, water pump, pressure transmitter, water supply pipe; driver with built-in 4-20mA/0-10V analog signal interface, receiving sensor, pressure feedback signal; using the built-in PID algorithm to adjust the function, quality control system operation barrier water supply, meet the production needs of life support system; remote and local control of two modes, between two modes to each other switch;
Built in RS485 function, it can form centralized control system with upper computer and so on, which is convenient for monitoring and management. Large pump application can greatly reduce starting current and reduce power grid impact, and various built-in protection functions can make equipment run more reliably and safely.