Overview of application.
Pneumatic technology is one of the most effective means of production process automation and mechanization, has the advantages of high efficiency, clean and safe, low cost, easy maintenance, air compressor is a pneumatic system in electrical leads the main source device, can realize the compression of gas pressure, and then transferred to the dynamic system of gas, can be used for metallurgy, textile, electric power, mining, machinery manufacturing, production and processing industries.
- application challenges
Provide high quality gas supply, low pressure fluctuation;
To realize energy saving operation and reduce operation cost.
Reduce the noise of the equipment running and improve the operating environment.
Avoid mechanical resonance and improve the stability of the system.
Solution: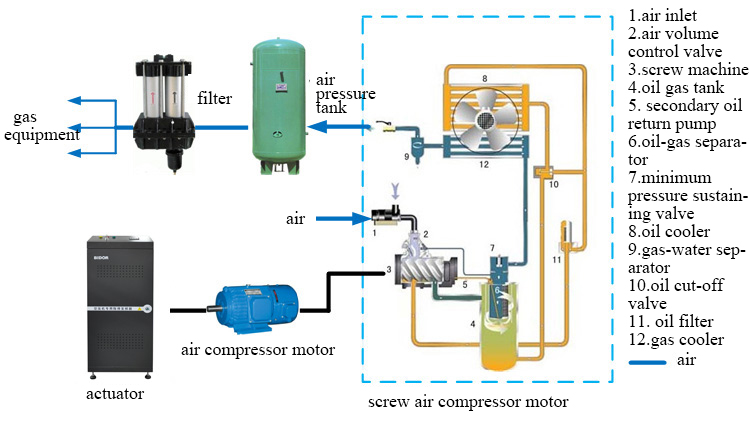 The load characteristics of screw compressor for constant torque load, through screw compression will increase gas delivery to the network, the traditional project, air compressor motor has been operating in the frequency of 50Hz, the pressure to meet the requirements, then close the intake valve into the unloading operation, the motor power is still in the running state, do is futile.
The control scheme is: using the principle of frequency inverter technology, reduce the frequency of operation of no-load operation, reduce power consumption, but also can realize the soft start scheme of equipment, to further reduce the starting current, reduce the impact of the power grid, while the low frequency operation noise will be low, the device will reduce the pressure, improve the running conditions, improve the reliability of the system.